Vibrato Notes - An Open-Source Note-Taking App for Linux, Mac, Windows, Android and iOS.
Take full control of your digital notebook! Vibrato Notes will be a powerful & scriptable note-taking application.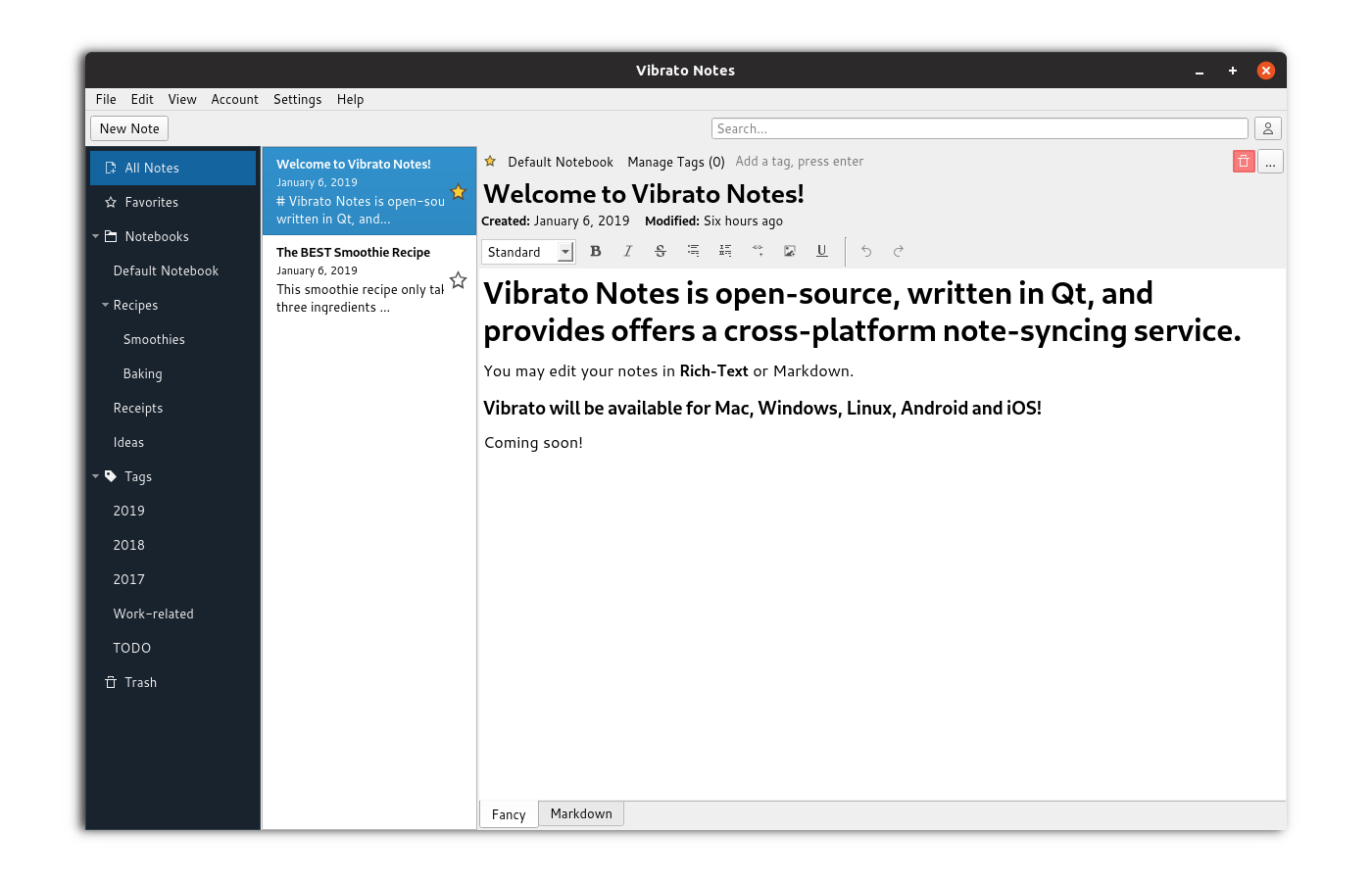 Sync Your Notes to the Encrypted Cloud
Notes will be encrypted on the client-side before sent to the cloud. Only YOU will be able to access your notes.
Use both Rich-Text and Markdown
Easily edit your notes using rich-text or markdown and switch between the two formats interchangeably!
Open-Source under the GPL License.
Every component of Vibrato is open-sourced under the GPL license. We support software freedom. Also, 5% of the revenue made from monthly memberships will be donated to other open-source projects.
Support Open-Source Business Models
Vibrato Notes provides a free-to-download-and-use application that earns its revenue from its cloud note-syncing service. Purchasing a membership not only provides you with a seamless note-taking experience on all of your devices but also allows you to support the open development of this app.
About The Author & Project
Hi, everyone! I'm Doug, age 20. I have been using Linux as a desktop since 2016 and have been programming since I was quite young. One thing I have always wanted on Linux was a seamless cross-platform note-taking experience that is both powerful and convenient. There are various options but in all I have had various productivity and usability hindrances. By following Linux-related subreddits for a while I found I was not the only one running into these problems.
Vibrato Notes will be extendable through a Lisp-like scripting language. If you do not prefer Lisp, there will likely be a Python API as well on the desktop.
I decided to start not only Vibrato Notes, but the Open App Library Project as a whole. Its goal will be to create a sustainable open-source software company that is able to create and maintain truly useful applications while being able to support other open-source projects through donations.